...is the brand new album by The Candlelight Guitarist. Inspired by the classic novel Don Quixote by Miguel Cervantes, it's a very romantic musical program designed for an imagined fantasy wedding of Dulcinea and Don Quixote.

This CD offers over 45 minutes of romantic and elegant music, perfect for relaxing listening, dining, or even the sountrack for a very romantic wedding! The tracks include many 'classics' popular in weddings, and some original pieces by Brad Powell.


musical selections:

Destiny Suite (For Dulcinea & Don Quixote)
Give Me Your Hand [Rory Dall O'Cahan]
Airedonda (adapted from Air on the G String by J.S.Bach)
We Found a Love Sublime
Gazebolero
Spring (The Four Seasons) [Antonio Vivaldi]
The Swan [Charles-Camille Saint-Saëns]
Flower Duet [Léo Delibes]
O Mio Babbino Caro [Giacomo Puccini]
Ode to Joy [Ludwig van Beethoven]
Jesu, Joy of Man's Desiring [J.S.Bach]
Canon In D [Johann Pachelbel]
Greatest Gift That We Can Give
La Luna Y El Sol (Flower Girl & Ring Bearer)
Encantadora (Dulcinea's Entrance)
Walk in the Garden Where Love Grows
Air for Soul Mates (Unity)
Siman Tov, Mazel Tov [Trad.]
Trumpet Voluntary (Prince of Denmark's March) [Jeremiah Clarke]
Windmills of La Mancha

All pieces composed & arranged by Brad Powell, except as noted. All original pieces and arrangements are published by Geofonica Artistworks. Sheet music will be available very soon! Please check back here!

Available NOW for Streaming /
or Download at
ALL MAJOR ONLINE MUSIC OUTLETS,
including:

ABOUT the Cover Art: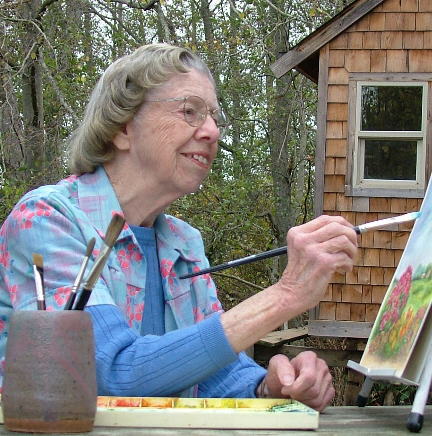 The album and CD features cover art by Brad's mother, Dorothy Powell, who at 99 years young, is an active painter in her community of Anacortes, Washington. Dorothy began painting at the age of 57, after her husband, Hayward (Brad's dad), passed away. She has won "Best of Show" and many other honors in county fair and local art shows, and sold many paintings and notecards featuring her artwork. Dorothy was honored as a Lifetime Member (and she's a past-president) of Artists Northwest -an association of artists in Northwest Washington.