"Life isn't a matter of milestones, but of moments."
- Rose Kennedy

"If you have built castles in the air, your work need not be lost; that is where they should be. Now put the foundations under them."
- Henry David Thoreau

"Nothing happens unless first a dream."
- Carl Sandburg

"With every additional step you enhance immensely the value of your first."
- Ralph Waldo Emerson

"You can observe a lot by watching."
- Yogi Berra




(Solos with Nature Sounds)
Sunflower Serenity is the first in the Candlelight Guitarist's "Watercolor Odyssey" CD series, an instrumental music cycle. This musical journey will feature divers water and nature sounds, set in many locales as backdrops for the instrumental settings and themes.
"As gentle soothing background music (especially since it's enhanced with assorted nature sounds from the Pacific northwest and Laguna Beach, California), this is a near perfect listening experience. "When searching for the soundtrack to a relaxing afternoon...I don't think you could do much better than this wonderful album. Solidly recommended."
- New Age Reporter

Sunflower Serenity provides over 60 minutes of relaxing instrumental guitar solos with soothing nature sounds.

The musical selections include...


Aura of Serenity
A Place To Find Peace
Seven Sunflowers
Be What You Believe
Robin's Aria
My Imaginary Hammock
The Seeker

Prelude For A Peak Experience
Apple Pie Allemande
Blackberry Courante
The Sage (Sarabande)
Hummingbird Minuet
Ladybug Gavotte
Caterpillar Chaconne into Butterfly
Teddy Bear's Joyful Jig (Gigue)
Today's The Day

Available for Streaming /
Download and/or CD purchase at
ALL MAJOR ONLINE MUSIC OUTLETS,
including:

Rebecca Johnson, author of "The Rebecca Review" (Amazon.com TOP 10 reviewer) writes:
***** (FIVE STARS) ~ An Artist's Heart, April 4, 2007 "Guitar solos invite you into a place of deep relaxation where you can renew your spirit. Bradley Powell's "Sunflower Serenity" is the first in a series called Watercolor Odysey that explores life's journey.

This healing and warm melodious experience is filled with heart healing energy. Dreamy guitar takes center stage as a rich landscape of sounds creates a moment of reflection. The tracks melt beautifully together to create an escape into serenity.

Bradley Powell's flawless playing allows you to completely relax into sleep or relax into an evening of candlelight and romance. I've fallen into a peaceful sleep while listening to this music and have also spent relaxing afternoons reading while The Candlelight Guitarist wove an intricate tapestry of sounds to nurture my heart.

Bradley Powell's music soothes the soul and leads you into a tranquil space of musical paradise."

Rebecca Johnson ~The Rebecca Review
ABOUT the Music:
Aura of Serenity is about the glow you radiate when your inner spirit finds serenity.

A Place To Find Peace is inspired by the sanctuary we all can find (in the middle of a crazy world) to refresh our spirit...if we just look and take the time to go there.

My Imaginary Hammock lets you sway in the warm breeze just about anywhere you choose.
Sunflower Serenity also includes Brad's original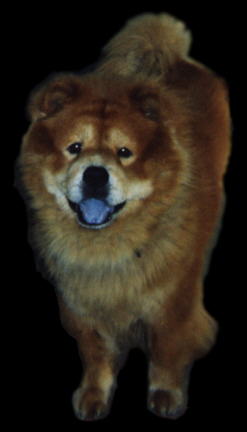 "Brown Bag Baroque Suite" (tracks 8-15), for your "brown bag lunch" listening pleasure! It's a nod to the suites of Bach and Handel...with movements inspired by flora and fawna around his home in Lytle Creek.
Caterpillar Chaconne into Butterfly is inspired by the chrysalis and capacity for transformation (you never know until you try!) In the baroque era, a "chaconne" was a series of variations developing over a short harmonic progression. For Brad, that seemed like the perfect musical vehicle to portray the caterpillar's transformation into a butterfly. Once the caterpillar "chaconne" is complete, the piece takes on a new appearance as a butterfly (yet, with the same genetic-musical material.)
Teddy Bear's Joyful Jig, is fun tune inspired by a Chow Chow friend (pictured). Ted seemed to do a dance whenever he entered a room! You'll want to dance along with your Teddy Bear!
With Today's The Day, the CD closes with an inspiring reminder that today is the best place to begin making a brighter future.
ABOUT the Watercolor Cover Art:
Sunflower Serenity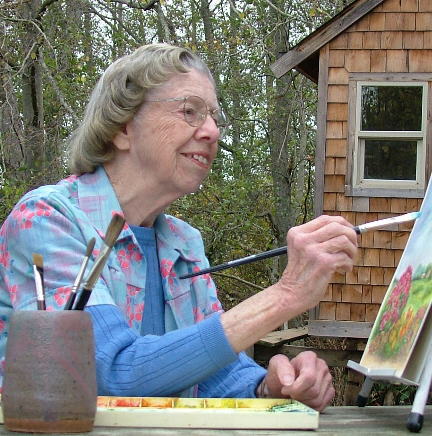 and the future CDs in the Watercolor Odyssey series will feature watercolor cover art by Brad's mother, Dorothy Powell, who at 93 years young, is an active painter in her community of Anacortes, Washington. Dorothy began painting at the age of 57, after her husband, Hayward (Brad's dad), passed away. She has won "Best of Show" and many other honors in county and local art shows, and sold many paintings and notecards featuring her artwork. She's an active member and past-president of Artists Northwest -an association of artists in Northwest Washington.
ABOUT the Nature Sounds:
The nature sounds on Sunflower Serenity were recorded at the following locations...

West shore of Guemes Island, Anacortes, Washington
Friday Creek, near Lake Samish, Washington (with the help Joan Ellsworth)
San Juan Islands region, Washington
Mt. Rainer National Park (with the help of Linda Tyrrill):

Paradise Creek
Nisqually River
Nickel Creek
Maple Creek

Lytle Creek, California (San Bernardino National Forest)
Wood's Cove, at Laguna Beach, California
CD Credits:
mastered by Wayne Cook

watercolor cover art by Dorothy Powell

PHOTOS CREDITS (© 2006 Geofonica, except as noted):
photo of butterfly by Kathie Meyer, © 2006 (used by permission)

photo of hummingbirds by Alan Powell

photo of Brad by Robin Babou

(other photos by Brad)
music composed and performed by Bradley Powell © 2006 Geofonica Artistworks (ASCAP)