...is the new album by The Candlelight Guitarist. It's an all-guitar instrumental & existential journey into matters of the heart and soul. Music for inspiration, and lifting up others who need some comfort and inspiration. Music for making friends, looking at the wonder of nature, finding comfort in the midst of sorrow, and towards finding what your heart seeks. The album was inspired by the Beatitudes and the Sermon on the Mount, during guitarist Brad Powell's solo 221-mile thru-hike of the John Muir Trail and Mt. Whitney.

This CD offers one hour of inspiring, comforting and meditative tracks for:

inspirational mood music (great at home, in the car, or at work)
relaxing dinner music
music for reading (it's all-instrumental)
restoring your spirit
music for relaxing driving
other times of soothing inspirational listening
and

it makes a great gift!


musical selections:

You Are the Light
Where Your Treasure Is
Bring Forth Good Fruit
Making Friends
Behold the Birds
The Crossing (Beatitude Bridge)
For the Poor in Spirit
Mourner's Comfort
Meek Shall Inherit
Hunger and Thirst After Righteousness
Merciful
Pure in Heart
Peacemakers
Persecuted for Righteousness Sake
City on a Hill
Seek and You Shall Find
Go the Extra Mile
Leave Tomorrow for Tomorrow

Available for Streaming /
Download and/or CD purchase at
ALL MAJOR ONLINE MUSIC OUTLETS,
including:

ABOUT the Cover Art: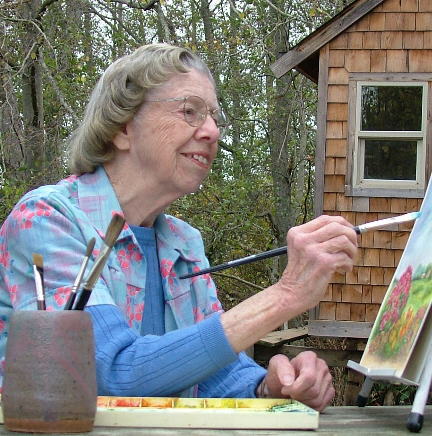 Faith Mountain CD features cover art by Brad's mother, Dorothy Powell, who at 89 years young, is an active painter in her community of Anacortes, Washington. Dorothy began painting at the age of 57, after her husband, Hayward (Brad's dad), passed away. She has won "Best of Show" and many other honors in county fair and local art shows, and sold many paintings and notecards featuring her artwork. She's an active member and past-president of Artists Northwest -an association of artists in Northwest Washington.